3. The Sanctified Life of the Believer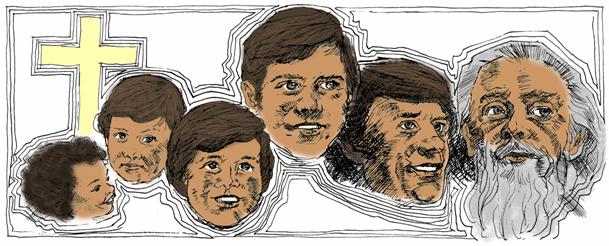 We believe that every legally justified forgiven believer in Christ personally receives the gracious gift of the indwelling Holy Spirit and is born again from above.
Imparted Righteousness and Good Works: The Holy Spirit urges, teaches, empowers, and enables all believers in Jesus to begin to live loving, sanctified lives and enter into the life-long battle against sin. This daily growth in character is called sanctification or the rebirth. Christ lives in the believing community, the church, through the anointing power of the Holy Spirit. In Christ, we will begin to bear the fruits of God's Spirit in our lives: love, joy, peace, patience, kindness, goodness, faithfulness, humility, and self-control. We are called to unite with Christ to use the spiritual weapons He has made available for Christians to enter the battles of life as we struggle against sin and hardness of heart. Daily the spiritual qualities of God's Law, the Ten Commandments, including the seventh day Sabbath of the fourth commandment, are impressed and written upon the heart and then expressed and reflected in the life as we earn a living, raise our children, are faithful in marriage, help our neighbor, reach out to our enemies, wrestle with inbred tendencies to evil, and actively labor in the name of Christ to meet the physical and spiritual needs of the fallen world in which we live. Thus, the good works of believers are the "fruit" of our justification and never the "root" of our justification.
In Sanctification: we resist the Devil; strive against sin — take up our cross and follow Jesus — hunger and thirst after righteousness — overcome the love of the world, the lust of the eye, and the pride of life — love God with all our hearts, minds, and souls — love our neighbors as ourselves by doing unto others as we would have others do unto us — endure hardships and persecution — bless those who persecute us and not curse them — labor to proclaim the gospel to all the world — pray without ceasing — use every talent we have for the glory of God as we present our bodies as a living sacrifice, holy and acceptable unto God, not conforming to the world but rather being transformed by the renewing of our minds — rejoice with those who rejoice and weep with those who weep — do not set our minds on high things but associate with the humble — pay no one evil for evil, not avenging ourselves — show mercy to all with cheerfulness — teach all — minister to all — give to all — show love to all — do not lag in diligence — do not think more highly of ourselves than we ought but think soberly — are kindly affectionate to one another with brotherly love — rejoice in hope — are patient in tribulation — distribute to the needs of the saints — pursue hospitality — despise all forms of adultery, fornication, uncleanness, lewdness, idolatry, sorcery, hatred, contentions, jealousies, outbursts of wrath, selfish ambition, dissensions, heresies, envy, murder, drunkenness, and ungodly associations. In all things we are to be zealous of good works, put on the Lord Jesus Christ, and not make any provision for the flesh.
However, even as we personally mature in Christ — obey the Commandments of God — partake of the divine nature — grow in faith and a knowledge of His word — and deepen in our repentance — there is no point in the Christian life where we will not need forgiveness and legal justification by God's unmerited grace alone through faith in Christ's imputed righteousness. Our daily prayer, this side of eternity, to our Heavenly Father will always be — "Father, please forgive us of our sins, for Jesus' sake" and — "Lord, I am an unprofitable servant. Be merciful to me a sinner, for Jesus' sake." Thus the Christian church is always a forgiven community and therefore is to always be a forgiving community. This is true now and even unto the second coming of our Lord Jesus Christ in the clouds of heaven.