How to Live the Victorious Life
Home
---
5. Some Practical Examples

---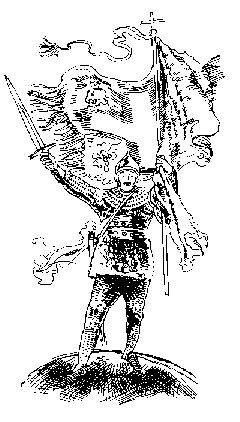 When Christ directed the woman taken in adultery, ..... go, and sin no more," He was commanding her to live the new life of holiness and purity. But this new life of sanctification was only possible as she first grasped the hope of justification that was given her in the promise of Christ, "Neither do I condemn thee John 8:11. The liberating decree of "no condemnation" (Rom. 8:1) sets the soul free to run the way of God's commandments.

In his letter to the Colossians, Paul exhorts them, "Mortify therefore your members which are upon the earth...." Col. 3:5. When we see the word therefore, common sense should direct us to see what it is there for. The apostle has just finished telling the Colossians, "For ye are dead, and your life is hid with Christ in God." v. 3.

This illustrates the inseparable biblical relationship between the indicative (you are) and the imperative (you ought). First the believers are reminded that they are dead. (Through faith they have been united to Christ. God considers that when Christ died, they died.) Then they are told, "Put to death your members which are upon the earth." As if to say, "God counts you as dead men, for that is what you really are in Christ. Now this gives you the right and responsibility to act like men who are dead to sin." We are not commanded to put to death our sinful desires in order to become dead, but because we are dead. Being is not the result of doing, but doing is the result of being.
"Lie not one to another, seeing that ye have put off the old man with his deeds Col. 3:9. Every human religion reverses that order. The best it can tell us is to stop lying and thereby put away the old man and his deeds. But the way of the gospel is utterly contrary to human devisings. It says, "You are dead; now act like dead men. You are pure; now flee from impurity. You are perfect; now seek to become perfect. You are; therefore do!" "The New Testament method and way of sanctification, therefore, is to get us to realize our position and standing, and to act accordingly." - Ibid., p. 262.
Here is another example of how the biblical command to live in holiness is undergirded by the fact of justification:
Having therefore these promises, dearly beloved, let us cleanse ourselves from all filthiness of the flesh and spirit, perfecting holiness in the fear of God. — 2 Cor. 7: 1.
This illustrates how we must grasp the promise of justification before we can obey the command of sanctification. We cannot "cleanse ourselves from all filthiness" unless we believe that we are already washed in the blood of the Lamb (1 John 1:9). We cannot engage in the process of perfecting holiness unless we realize that "by one offering He hath perfected for ever them that are sanctified." Heb. 10:14.

Consider this apostolic command: ". . . speak evil of no man...." Titus 3:2. Is there any commandment of God's Word that we so easily transgress? Who can endure this straight edge of the law? For we are not only commanded to refrain from speaking evil of good men, but we are forbidden to speak evil of any man. And what a blessed, innocent and holy congregation a pastor would have if the members carried this out! Yet if the pastor merely exhorts his congregation to live this sort of life, it is only an exercise in moralism. Obedience to this imperative is only possible as the congregation is reminded and keeps grasping the message of justification by faith. When Paul says ..... speak evil of no man...," he adds:

For [for this reason, in view of this] we ourselves also were sometimes foolish, disobedient, deceived, serving divers lusts and pleasures, living in malice and envy, hateful, and hating one another. But after that the kindness and love of God our Saviour toward men appeared, not by works of righteousness which we have done, but according to His mercy He saved us, by the washing of regeneration, and renewing of the Holy Ghost; which He shed on us abundantly through Jesus Christ our Saviour; that being justified by His grace, we should be made heirs according to the hope of eternal life. —Titus 3:3-7.
The publican who in the parable of Christ went down to his house justified had prayed, "God, be merciful to me, the sinner!" Luke 18:13, N.A.S.B. This man was blessed because he was really poor in spirit (Matt. 5:3). He saw himself not only as a sinner, but as the sinner. He felt that no one could be a sinner like he. He stood before God as if he were all the world's sin. This is the man whom God counts righteous. Now when a congregation grasps this kind of justification before God, how can they speak evil of any man?

Whether Paul is appealing for humility (as in Philippians 2), a forgiving spirit (as in Ephesians 4) or dedicated service (as in Romans 12), he always does so on the basis of the gospel. Christian existence is gospel existence. Sanctification is justification in action.
Perhaps the most striking illustration of how redemption undergirds all ethical action is found in the Old Testament-right in God's own preface to the Ten Commandments: "I am the Lord thy God, which have brought thee up out of the land of Egypt, out of the house of bondage. [Therefore] thou shalt have no other gods before Me. Thou shalt not.... Thou shalt not.... Thou shalt not...," etc. Ex. 20:2-17. God's redemptive acts back there (which are an illustration of His liberating acts in Christ and justification by faith) made the new life of obedience a right as well as a responsibility for the redeemed people. Appeals to live the good life which are not based on the truth of justification by faith can only lead to moralism and legalism. But justification puts the believer on vantage ground-legally, psychologically, efficiently and positionally. It makes the yoke of sanctification easy and the burden of holiness light. "The eternal truth is that the law never stands by itself but can be found only, as under the old Dispensation, in the ark of the Covenant." — G.C. Berkouwer.