---
The Basic Catholic Doctrine of Justification by Faith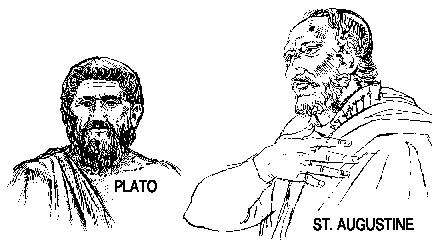 Romanism is the religion of human nature. Catholic theology is based on classical Greek logic, the best logic that humanity can muster.
If our own understanding of the gospel is the product of human reasoning, it is sure to contain elements that are essentially Catholic. If the eyes of our understanding have not been anointed with the heavenly eye salve, then we should not be surprised to find that our thinking is reflected in the best Catholic authors.
Catholicism Affirms "By Grace Alone"
The New Testament writers are emphatic that salvation is by grace alone (Rom. 3:24, 28; 4:5; 11:6; Gal. 2:16-21; Eph. 2:8-10; Titus 3:5-8).
NKJ Romans 3:24, 28 "being justified freely by His grace through the redemption that is in Christ Jesus…Therefore we conclude that a man is justified by faith apart from the deeds of the law."

NKJ Romans 4:5 "But to him who does not work but believes on Him who justifies the ungodly, his faith is accounted for righteousness,"

NKJ Romans 11:6 "And if by grace, then it is no longer of works; otherwise grace is no longer grace. But if it is of works, it is no longer grace; otherwise work is no longer work."

NKJ Galatians 2:16-21 "knowing that a man is not justified by the works of the law but by faith in Jesus Christ, even we have believed in Christ Jesus, that we might be justified by faith in Christ and not by the works of the law; for by the works of the law no flesh shall be justified. But if, while we seek to be justified by Christ, we ourselves also are found sinners, is Christ therefore a minister of sin? Certainly not! For if I build again those things which I destroyed, I make myself a transgressor. For I through the law died to the law that I might live to God. For I through the law died to the law that I might live to God. I have been crucified with Christ; it is no longer I who live, but Christ lives in me; and the life which I now live in the flesh I live by faith in the Son of God, who loved me and gave Himself for me. I do not set aside the grace of God; for if righteousness comes through the law, then Christ died in vain."

NKJ Ephesians 2:8-10 "For by grace you have been saved through faith, and that not of yourselves; it is the gift of God, not of works, lest anyone should boast. For we are His workmanship, created in Christ Jesus for good works, which God prepared beforehand that we should walk in them."

NKJ Titus 3:5-8 "…not by works of righteousness which we have done, but according to His mercy He saved us, through the washing of regeneration and renewing of the Holy Spirit, whom He poured out on us abundantly through Jesus Christ our Savior, that having been justified by His grace we should become heirs according to the hope of eternal life. This is a faithful saying, and these things I want you to affirm constantly, that those who have believed in God should be careful to maintain good works. These things are good and profitable to men."
The first open challenge in the Church to salvation by grace was by Pelagius (about A.D. 400). He proposed that man was able to live a holy life by the natural powers given him of God, and thus obtain salvation.

Augustine vigorously opposed Pelagianism and spelled out the orthodox view of man's depravity and need of divine grace.

In a series of councils, the Catholic Church sided with Augustine. And it is important to notice that Augustine was a great champion of the doctrine of salvation by grace alone. Within the Church, others arose to oppose Augustinian theology by proposing views which became known as semi-Pelagianism. The councils of the Church even condemned semi-Pelagianism. Catholic authors cite these facts of history in an effort to demonstrate how the Church has always stood by the New Testament teaching of salvation by grace.

It comes as a surprise to many Protestants to see how freely Catholic authors quote the Bible on salvation by grace. It appears that the Roman authors can live quite comfortably with these passages of Scripture. We quote from a representative Catholic book, The Theology of Grace, by Jean Daujat (London; Burns & Gates, 1959):
"St. Paul tells us that we are 'justified freely by his grace, and that we are 'saved according to the election of grace,12 and if by grace it is not now by works: otherwise grace is no more grace'.13 To the Corinthians, he writes: 'By the grace of God I am what I am',14 and speaks to the Ephesians of 'Christ, by whose grace you are saved . . . for by grace you are saved . . . and that not of yourselves, for it is the gift of God'15. He reminds Timothy that 'God has called me by his holy calling, not according to our own works, but according to his own purpose and grace'.16 And again: 'To every one of us is given grace, according to the measure of the giving of Christ'.17 The same Apostle writes to Titus: 'That being justified by his grace, we may be heirs according to the hope of life everlasting'.18 and again to the Ephesians that God has predestinated us unto the praise of the glory of his grace, in which he hath graced us in his beloved Son'."19

"We have already quoted St. Paul's words to the Romans: The charity of God is poured forth in our hearts by the Holy Spirit whom we have received. Charity is the life of Christ present in us by the Holy Spirit. It is Jesus who, dwelling in us through the gift of the Holy Spirit, loves God perfectly in us through the Holy Spirit by whom we are animated and moved. So St. Teresa of Lisieux could write: 'When I am charitable, it is only our Lord acting in me.' Of ourselves, we are incapable of a single movement of love, unless it comes to us by the grace of Christ abiding in us by the Holy Spirit."

"Of ourselves, we have not, and cannot have, merit, virtue or holiness. It is Jesus Christ, living in us, substituting his life of grace for our natural, sinful life, who is our merit and our sanctity. We are capable of meritorious and holy living only in the measure in which we have renounced the sinful, natural life inherited from Adam, our desires and impulses that are purely sensuous, as also our own opinions and self-will, in order to live henceforth the 'Christ-life' that must permeate everything in us."
In his book, The Life of Grace, P. Gregory Stevens says:
"St. Paul has summarized the plight of man without Christ and without grace in a single sentence: 'For when we were in the flesh the sinful passions, which were aroused by the Law, were at work in our members so that they brought forth fruit unto death.' (Rom. 7.5) Man without Christ is doomed to death because he is subject to and unable to control the sinful movements of the flesh, a principle of rebellion against God. In causing man to become more conscious of sin, the Law heightened his responsibility; but it gave no power to fulfill its own prescriptions. Even those Jews who, like the Pharisees, took pride in their own ability to live out the Law are defeated by the Law, for grace comes only through Christ. Only through grace is man liberated from that bondage to Satan which leads to death. In his gracious mercy the Father has sent his Son to free man, to unite man with the living Trinity, to lead man to the plenitude of his destiny in the grace of Christ. (Ephesians 2 may be studied as a summary of this whole doctrine in Paul's own words and expression.)"

" 'For there is no distinction, as all have sinned and have need of the glory of God. They are justified freely by his grace through the redemption which is in Christ Jesus. (Rom. 3.22-24)

"Paul is writing to oppose those Jews and Christians who saw justification as something to be accomplished by a person through his own good works. In this aberration, man was seen as bringing about grace as a reward or even as a salary from God for good deeds done. Paul vigorously opposes this religion of human self-sufficiency, denying, as we have seen, man's power to perform the good works of the Law, and constantly affirming that justification is a work of God bestowed on faithful men as a free divine gift. The Apostle strongly opposes a religion based on 'boasting,' on self-sufficiency before God. Such a religion is injurious to the divine goodness and is based on an unreal view of the human condition."

"From its genesis at the beginning of man's life to its consummation at the end, the work of man's salvation is inseparably the gratuitous gift of God and the free cooperation of man."
Then there are the canons of the Council of Trent. In 1547 the Church convened to issue a proclamation on justification in order to counter the Reformation theology. In Canon 1 the Catholic council declared:
"If anyone says that man can be justified before God by his own works, whether done by his own natural powers or through the teaching of the law, without divine grace through Jesus Christ, let him be anathema."
Canon 3 appears to be very evangelical also:
"If anyone says that without the predisposing inspiration of the Holy Ghost, and without His help, man can believe, hope, love or be repentant as he ought, so that the grace of justification may be bestowed upon Him, let him be anathema."
In his Doctrinal Catechism, Stephen Keenan makes this startling presentation:
"Q. What justification?
A. It is a grace which makes us friends of God.

Q. Can a sinner merit this justifying grace?
A. No, he cannot; because all the good works which the sinner performs whilst he is in a state of mortal sin, are dead works, which have no merit sufficient to justify.

Q. Is it an article of the Catholic faith, that the sinner, in mortal sin, cannot merit the grace of justification?
A. Yes; it is decreed in the seventh chap. of the sixth session of the Council of Trent, that neither faith, nor good works preceding justification, can merit the grace of justification.

Q. How then is the sinner justified?
A. He is justified gratuitously by the pure mercy of God, not on account of his own or any human merit, but purely through the merits of Jesus Christ; for Jesus Christ is our only mediator of redemption, who alone, by his passion and death, has reconciled us to his Father.

Q. Why then do Protestants charge us with believing that the sinner can merit the remission of his sins?
A. Their ignorance of the Catholic doctrine is the cause of this, as well as many other false charges."
The Catholic Concept of Justification
Now let us look at Rome's doctrine of justification. In the words of its own apologists, the Roman doctrine of justification is "the heart of Catholic teaching." Without question, the Church teaches that justification is by an act of God's grace. Stephen Keenan has a point when he says that Protestants often show their ignorance of Catholic doctrine. The Church does not teach, and never has officially taught, that justification is anything else than God's gracious act. Those who imagine that Catholic theologians teach a bald righteousness by man's own works, are not prepared to meet or recognize the doctrine of the mystery of iniquity.
In brief, Catholicism teaches that justification is God's renovating act within man. Without this new birth, or regenerating act of the Holy Spirit, the Church declares that sinners can never be justified.
The Council of Trent declared:
" . . . if they [men] were not born again in Christ, they would never be justified, since in that new birth there is bestowed upon them, through the merit of His passion, the grace by which they are made just . . . "
The editors of the Roman Catholic Douay Version make these footnote comments on Romans 3 and 4:
"The justification of which St. Paul here speaks is the infusion of sanctifying grace which alone renders a person supernaturally pleasing in the sight of God." "But justification, that is, an infusion of sanctifying grace, cannot be merited by us; it is an entirely gratuitous gift of God."
And P. Gregory Stevens writes the following in The Life of Grace:
"What is the reality of the justification accorded by God when man cooperates in faith? Is it merely like a statement of God declaring the sinner just? Or is it a divine act by which the sinner is internally transformed and becomes a new reality before God? Catholic thought has always been that the justice bestowed on man is a gratuitous gift (Gal. 3.6ff), and a true justice which actually transforms man into a person pleasing to God."

"Catholic doctrine on these questions, formulated in opposition to Lutheranism, was presented in full at the Council of Trent, as it had been previously by Pope Leo X in the Bull 'Exsurge Domine' of June 15, 1520. The teaching of Trent centers on two points of fundamental importance for the understanding of the Catholic doctrine on grace. First of all, justification is a real and profound transformation of man, a genuine gift of sanctification to him. It can in no way be reduced to something purely external."

"In a clear, religiously profound statement the Council defines the inner nature and structure of justification. It does so in direct opposition to the extrinsecist position of Reformation theology. The heart of Catholic teaching is contained in this passage. First of all comes the assertion that "justification is not only the remission of sins, but sanctification and renovation of the interior man through the voluntary reception of grace and the gifts, whereby man becomes just instead of unjust, a friend instead of an enemy, that he may be an heir in the hope of life everlasting." The Council then details the causes of this inner transformation: its goal and purpose is God's glory; it is brought about by God through the merits of our Redeemer, and communicated to man in faith and baptism."
Summary and Conclusion
The Catholic doctrine of justification may be accurately summarized as follows:
1. Justification is the internal renovation and renewing of a man, i.e., human sanctification.

2. Justification comes by an infusion of God's grace. Man is justified on the basis of what the Holy Spirit has done in him.

3. Justification means that man himself is made just, made pleasing to God in his own person.
In practical terms, Catholic justification may be expressed this way: "Here is a sinner, vile and wicked. God's grace acting within him changes him into a person pleasing to God. By this grace acting within him, he is justified before God."
A devout Catholic may say: "Righteousness by faith means that I cannot save myself, but by faith I can receive God's transforming grace. His grace can change my heart, and by His grace in my heart I can be acceptable in His sight." Or to use the words of Jean Daujat (The Theology of Grace):
"Sinful man cannot, of himself, be pleasing to God. For that, he must receive a gift from God which transforms him interiorly, cleanses him and sanctifies him by adorning him with qualities that render him pleasing to his Creator."
The foregoing is a faithful reflection of Romanism, not only presented after a careful research in Catholic literature, but also personally verified with theologians from that Church. If you honestly cannot see much wrong with the doctrine set forth in the preceding material, then, dear friend, it is because you have been a good Catholic without knowing it. We do not say this to offend. Romanism is merely the religion of human nature, and we are all human. Unless we are anointed with the Spirit of divine enlightenment, we are bound to be confused with the doctrine of the mystery of iniquity.
———————————————
Footnotes:
12 Rom. 3.24
13 1b1d., 11.5-6
14 1 Cor. 15.10
15 Ephes. 2.5-8
16 2 Tim. 1.9
17Ephes. 4.7
18 Titus 3.7
19 Ephes. 1.6

---
CHECK YOUR ANSWERS
Now check your answers to the Questionnaire.
The correct answers are:
1. (a)
2. (a)
3. (a)
4. (b)
5. (a)
6. (b)
7. (b)
8. (a)
9. (a)
10. (a)
---