Aspects of Righteousness

Andrew Johnson*


Righteousness may be defined simply as "that character or quality of being just or right." The standard of righteousness is set forth in God's person and law. The Scriptures distinguish at least four aspects, or kinds, of righteousness.


1. The Righteousness of God

Righteousness is an essential attribute of God's being. "But if our unrighteousness demonstrates the righteousness of God, what shall we say? The God who inflicts wrath is not unrighteous, is He? (I am speaking in human terms.)" Rom. 3:5. This attribute of God is unchanging and unchangeable. He is holy, righteous and just in the absolute and final sense. It is impossible for Him to deviate from His righteousness. There is not so much as a "shadow of turning" with Him. The righteous God cannot look upon sin with the least degree of allowance. "Thine eyes are too pure to approve evil, and Thou canst not look upon wickedness with favor." Hab. 1:13. As a result, judgment has come upon all unto condemnation. And ultimately it will be visited upon the unrepentant and unbelieving sinner.

God is also righteous in all His ways. This is true even in the gospel. In the goodness of the grace of God, He is not just lenient with regard to sin and willing to overlook it because He is loving. God in no way belittles sin either in salvation or in His other dealings with mankind. And we will see that God even saves us by His righteousness and righteously.

2. Man's Self-righteousness

In speaking about his brethren according to the flesh, Paul referred to many who had a zeal for God but not in accordance with knowledge. "For not knowing about God's righteousness, and seeking to establish their own, they did not subject themselves to the righteousness of God." If we will only stop to consider, we cannot but be impressed with the fact that we spend a great deal of time at self-justification — seeking to make ourselves acceptable to ourselves, to others and to God.

However, in the light of God's Word, man's righteousness is anything but acceptable. Actually, man's righteousness is considered as filthy rags in God's sight (Isa. 64:6). God's description of man with respect to his own righteousness is very vivid and certainly not very complimentary. Romans 3:9-18 declares:
". . . all [are] under sin; as it is written,
"There is none righteous, not even one;
There is none who understands,
There is none who seeks for God;
All have turned aside, together they have become useless;
There is none who does good,
There is not even one."
"Their throat is an open grave,
With their tongues they kept deceiving,"
"The poison of asps is under their lips;"
"Whose mouth is full of cursing and bitterness;"
"Their feet are swift to shed blood,
Destruction and misery are in their paths,
And the path of peace have they not known."
"There is no fear of God before their eyes."
What a description of man! And how different than man's evaluation of himself! But this is as God sees us in His "all-righteousness."

Why does man miss the mark so widely concerning self? No doubt it is always difficult to make a subjective evaluation of ourselves. But also we find that man's great mistake lies in the fact that his standards are arrived at by comparing himself with others. "But when they measure themselves by themselves, and compare themselves with themselves, they are without understanding." 2 Cor. 10:12.

We need to be reminded again and again that it is not only those who are condemned by society and regarded as reprobates that are lost, but "all have sinned, and come short of the glory of God" (Rom. 3:23). We are all together become unprofitable. Our sins have separated us from God. There is no possible way whereby our righteousness can make us acceptable to Him. It can only condemn us!


3. The Righteousness of Faith (imputed)
But now apart from the Law the righteousness of God has been manifested, being witnessed by the Law and the prophets; even the righteousness of God through faith in Jesus Christ for all those who believe; for there is no distinction. Rom. 3:21, 22.
The imputed, reckoned, or gift, righteousness of God to sinful man transcends all Christian themes. There is nothing to compare with this in all of human thought, secular or religious. Natural man cannot conceive of it, and, for that matter, even some Christians find it hard to really grasp. There seems to be almost an instinctive fear among sincere people that this righteousness of faith would mean the end of all "real" righteousness within and among people. Most people no doubt feel that to say we do not have a righteousness of our own that is acceptable to God and He will be satisfied with a righteousness of Another, reckoned to our account, would just be a stimulus to sins of all kinds. However, human reasoning must not determine the issue for us at this point. It must be determined by the revelation of the Word of God! The fact of the imputation of righteousness, or the reckoned righteousness of God, is certainly taught in the Bible. And its importance is transcendent.

Does God operate on the principle of imputation? Let us consider this for a moment. Adam sinned, and his sin ruined the human race. We are sinners by nature. We all carry within us the virus of original sin because of our identification with Adam. Death is the penalty of Adam's sin, and this is the lot of all men according to Romans 5:12: "Therefore, just as through one man sin entered into the world, and death through sin, and so death spread to all men, because all sinned....." However, the Bible is crystal clear concerning the fact that the sin of man was imputed, or reckoned, to Christ. Jesus Christ is our sin offering, our propitiation.
And He Himself is the propitiation for our sins; and not for ours only, but also for those of the whole world. 1 John 2:2.

For the love of God controls us, having concluded this, that One died for all, therefore all died.... He made Him who knew no sin to be sin on our behalf, that we might become the righteousness of God in Him. 2 Cor. 5:14, 21.

Christ redeemed us from the curse of the Law, having become a curse for us—for it is written, "Cursed is every one who hangs on a tree." Gal. 3:13.
And of course the principle of imputation is apparent throughout the Old Testament. We read in Isaiah 53:6: "All of us like sheep have gone astray, each of us has turned to his own way; but the Lord has caused the iniquity of us all to fall on Him."

Jesus paid it all,
All to Him I owe;
Sin had left a crimson stain;
He washed it white as snow.
Repentance towards God and Faith in Christ The truth I am about to state at this point is the most wonderful truth in all the world with respect to our relationship with God. What a shame that it should become so commonplace to us that it does not stir us! Here it is!
The righteousness of God is imputed, or reckoned, to our account when we trust Jesus Christ as our personal Saviour. We stand before God, then, not in our own righteousness but in the very perfect, complete and entire righteousness of God. We stand before God in all the perfection of Jesus Christ. This gives us a perfect standing! We are "accepted in the Beloved." Not only is the punishment for our sins accredited to the account of Jesus Christ, our Substitute, but also His very righteousness becomes ours upon repentance and faith.
This is not brought about by man, for "Salvation is of the Lord." It is not increased by our goodness in any sense, nor is it decreased by our failures, which often befall us, contrary to our deepest desires. The new life of the believer is one of continual faith in the blood of Christ and a continual life of repentance. We can never, this side of eternity, get beyond repentance towards God and faith in the blood of Jesus

In this day of religious subjectivism, how important it is to be reminded again and again of the tremendous fact that our acceptance with God is dependent upon something outside of ourselves! This is not an experience within us. It is an experience in the heart of God as he reckons the believer righteous for Jesus' sake. This is the beginning of all God's work for us and in us.

Multitudinous are the Biblical illustrations concerning imputation to which we might call attention. There are, of course, the Old Testament sacrifices. The sinner confessed his sin over an animal, and then that animal was killed. It was the identification, typically in this case, of the sinner with his substitute that was in view as the animal was killed. The sinner's sin made him worthy of death. And that penalty of death was met in another. Christ is the antitype of that substitutionary sacrifice.

Likewise, we think of Abraham, father of the faithful. "He believed God, and it was reckoned [or imputed) to him for righteousness." Gen. 15:6. This happened when he believed God concerning the promised Seed that would come — Jesus Christ.

The little epistle of Philemon provides a delightful illustration of imputation. Philemon was a slave owner whose slave Onesimus had stolen from him and run away. Apparently Onesimus was apprehended in Rome and put in prison. There, Paul, who was also in prison, but for the gospel, made contact with Onesimus and apparently led him to Jesus Christ. Upon his release, it was Onesimus' responsibility to go back to his master. So Paul decided to send a letter along with him. This was to make it easier for Onesimus to return, for Paul had also been instrumental in leading Philemon to the Lord. In verses 17 and 18 of his epistle, the apostle wrote to Philemon, "If then you regard me a partner, accept him [Onesimus] as you would me. But if he has wronged you in any way, or owes you anything, charge that to my account." This is a superb illustration of what the Lord Jesus does for me. Jesus says to the Father, "if then You regard Me as a partner, accept him [Andrew Johnson] as You would Me. But if he has wronged You in any way [and I have], or owes You anything [and I do], charge that to My account." Oh, how wonderful! My sins have been reckoned to Jesus, and His perfect righteousness has been reckoned to my account.
This is justification by imputed righteousness. This affects our objective standing before God, not our inward state. This standing is brought about upon our believing in Jesus Christ. Our state, or sanctification, consists of our growth in grace and in knowledge of our Lord Jesus Christ. But do not forget that our acceptance with God is dependent upon what Christ has done for us and our faith in just that. "Faith is counted for righteousness."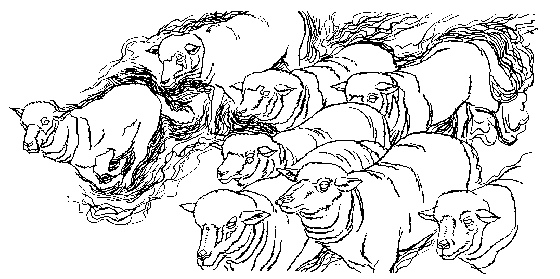 4. Imparted Righteousness

Finally, there is the righteousness imparted to us by the Holy Spirit. God has done a work for us that is the basis of our acceptance with God. And all that God does in us is a result of this. In Romans 8:4 we read, ". . . that the righteous requirements of the law might be fulfilled in us, who walk not after the flesh but after the Spirit."

Upon his believing, the believer in Jesus Christ is indwelt and filled with the Spirit. The Holy Spirit produces His fruit of righteousness in the life of the believer—not because of any specific act or attitude or condition fulfilled toward the Holy Spirit but because of simple faith in the finished work of Jesus Christ. According to Galatians 5:22, 23, the normal life of the believer in Jesus Christ is a living out of the fruit of the Spirit, which is "lave, joy, peace, patience, kindness, goodness, faithfulness, gentleness, self-control; against such things there is no law." And in Philippians 1: 1 1 Paul says, ". . . having been filled with the fruit of righteousness which comes through Jesus Christ, to the glory and praise of God."

The gifts for service from the ascended Christ are produced by the Holy Spirit of God in our lives. "But to each one is given the manifestation of the Spirit for the common good." 1 Cor. 12:7.

Again, the fruit and gifts of the Spirit are not produced by self-effort by the believer but in the believer by the Holy Spirit (see Rom. 4). However, this ought not to be thought of as a mystical experience highly fraught with emotion and preoccupation with self or even with the person and the work of the Holy Spirit. The righteous requirements of God's law are fulfilled in us as we obey God's will. The law is still the standard, and always will be the standard, of God's righteousness. We are not justified by it, nor should we be motivated by it, nor even enabled by it; but it is still the standard that will be fulfilled in us as we walk not after the flesh but after the Spirit.

This will not be done perfectly or completely, but it will be done significantly and growingly. This evidences the reality of our being children of God. And certainly it evidences the reality of our sanctification. Strictly speaking, our justification does not depend upon sanctification. However, justification is evidenced by sanctification, and this should be a growing and increasing development in our lives as we learn more perfectly the will of God and appropriate His grace day by day.

A word of warning: Imparted, or infused, righteousness made possible by the Holy Spirit of God as we obey the will of God, should never overshadow our appreciation for the imputed righteousness of God in our thinking. Our imputed righteousness is objective and perfect; our imparted righteousness is subjective and imperfect. This is not to demean the work of grace in our hearts in sanctification. However, all that God works in us is but an earnest (down payment) of the redemption of the purchased possession that will be ours when we come to glory. May we with Paul "press on toward the goal for the prize of the upward call of God in Christ Jesus." And may we say with the apostle:
Not that I have already obtained it, or have already become perfect, but I press on in order that I may lay hold of that for which also I was laid hold of by Christ Jesus. Brethren, I do not regard myself as having laid hold of it yet; but one thing I do: forgetting what lies behind and reaching forward to what lies ahead, I press on toward the goal. Phil. 3:12-14.
Humility is always becoming to the believer in Jesus Christ. We ought not to be calling attention to ourselves, to our achievement and to what spirituality we may have attained. But rather, let us extol the grace of our Lord Jesus Christ, the Son of God, our Saviour, who loved us and gave Himself for us.
*Andrew Johnson is pastor of the Evangelical Free Church, Lincoln, Nebraska. Scriptural quotations are frequently from the New American Standard Bible.
---