Man (Part 3)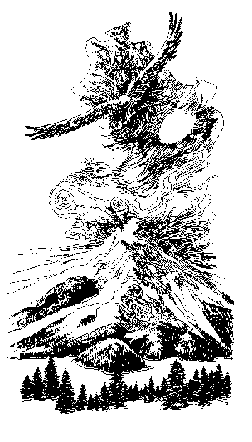 Chapter 7—The Verdict of Life

If our journey to the dark abyss called alienation has stalled our pursuit of life, it has accomplished its purpose. We must be so thoroughly chastened that we will cease our efforts and listen to good news — news so unspeakably great that if we will listen we will be lifted high above the mountain summit.
Health is being right in all our relationships. Unhealth is alienation. Healing is found in reconciliation — a task greater than the work of creation. Putting the fractured creation together again is a work only the Almighty can accomplish. Guilt is a God-sized problem. He must handle it. The creation of the world was an exhibition of almighty power and wisdom. But the work of reconciliation is greater. It is a work in which we see the exertion and investment of all the power, wisdom, justice and love of the Creator.

The story of what our heavenly Father has done is the Christian gospel — good news. It is two thousand years old, but it has never lost its thrilling power. As time rolls on, the more amazing it becomes. As the dark shadows of a future without hope deepen with the close of this century, it becomes increasingly clear that the good news is the only solution — a divine solution to reconcile man to his world, to his neighbor, to himself and to his God.
The good news is that God has acted to reconcile the world. He placed Himself in the tragic human situation. In the person of His own Son, by whom He made the world, He became "God with us" (Matthew 1:23) — and not only with us but "for us" (Romans 8:31). It is the nature of love to go out of itself to another, to put itself in the other's shoes, to bear the other's burden. This is what God did in the person of His Christ. He did it because His love called Him that way He did not do it because the objects of His love were valuable in themselves. The value was in the eye of the Beholder.

The Son of the Eternal God, possessing the nature and glory of the Father, came to this world as the Representative of God. He also became the Representative of man. He became the second Head of the race, as Adam was the first. Thus, He stood before God as mankind.1 As all the race was represented in the first Adam and fell with the first Adam, so in a mysterious way mankind was also gathered up and represented in Christ, the second Adam.

Born into the world as Jesus of Nazareth, having been conceived by the Holy Spirit, His identity with humanity was complete except that our wretched alienation, which makes us less than truly human, was not in Him. He was truly human although still truly divine. He subjected Himself to the law on our behalf. He was man in God's image, man as man was meant to be. He was the whole, holy, healthy man because He was in right relationship with God, with Himself, with humanity and with the world. He was for us the "ought." He was what we are not.

His identity with us became so complete that He actually identified Himself with our alienation. We see a faint and imperfect illustration of this when a parent suffers vicariously with an injured child. But His identity with us was much closer than any such relationship. Only the divine Creator could mysteriously make Himself so close to all. He bore our alienation as if it were His own. He was born in a stable and laid in a donkey's food box. His earthly parents had to flee with Him into Egypt. And when "He came to that which was His ..... . His own did not receive Him" (John 1:11).
He was despised and rejected by men;
a man of sorrows, and acquainted with grief;
and as one from whom men hide their faces.
He was despised, and we esteemed Him not.

Surely He has borne our griefs and carried our sorrows;
yet we esteemed Him stricken, smitten by God, and afflicted.
But He was wounded for our transgressions,
He was bruised for our iniquities;
upon Him was the chastisement that made us whole,
and with His stripes we are healed. All we like sheep have gone astray;
we have turned every one to his own way;
and the Lord has laid on Him the iniquity of us all.

He was oppressed, and He was afflicted, yet He opened not His mouth;
like a lamb that is led to the slaughter and like a sheep that before its shearers is dumb,
so He opened not His mouth. By oppression and judgment He was taken away;
and as for His generation, who considered that He was cut off out of the land of the living,
stricken for the transgression of my people? And they made His grave with the wicked
and with a rich man in His death, although He had done no violence,
and there was no deceit in His mouth.

Yet it was the will of the Lord to bruise Him; He has put Him to grief;
when He makes Himself an offering for sin, He shall see His offspring,
He shall prolong His days; the will of the Lord shall prosper in His hand;
He shall see the fruit of the travail of His soul and be satisfied;
by His knowledge shall the Righteous One, My Servant,
make many to be accounted righteous; and He shall bear their iniquities.
Therefore I will divide Him a portion with the great,
and He shall divide the spoil with the strong;
because He poured out His soul to death, and was numbered with the transgressors;
yet He bore the sin of many, and made intercession for the transgressors.

—Isaiah 53:3-12.
He Was Called to Judgment

God is not only merciful but also terrible in His justice. His law must be reckoned with. Even human experience should tell us that the great laws of life are not only inexorable, never changing, but penal — bringing an inevitable penalty upon the transgressor. God could not look on the sinful human situation with complacency His very justice and holiness demanded that He take action. And He did — with a justice both uncompromising and terrible.

On that Good Friday — alas, not good for Him, only for us — He arraigned the world in judgment. We were all there in our Head and Representative. God judged Him. And although He was all that we ought to be—for never had one walked the earth so pure and holy — He was condemned, justly condemned in the awful judgment of God. We say justly because God judges man relationally, and this Man stood identified with us. The penalty was not mitigated. There were no special favors. There was nothing pretty or sentimental about Calvary It was a gruesome, bloody execution.
Christ died for our sins according to the Scriptures.—1 Corinthians 15:3.

You see, at just the right time, when we were still powerless, Christ died for the ungodly .. . God demonstrates His own love for us in this: While we were still sinners, Christ died for us. —Romans 5:6, 8.

God made Him who had no sin to be sin for us, so that in Him we might become the righteousness of God. —2 Corinthians 5:21.

Christ redeemed us from the curse of the law by becoming a curse for us, for it is written: "Cursed is everyone who is hanged on a tree." — Galatians 3:13.
See this mysterious Victim hung between heaven and earth! As the Judge, He took the place of those who should have been judged. He bore the full brunt of the world's alienation. He bore the curse of nature, represented in a crown of thorns. The sun was darkened. He thirsted for drink. He was rejected by His own people and derided in His dying agonies. But far more terrible than all, He seemed shut out from God and from hope itself. To the depths of His soul He felt the terrors of hell —desperate loneliness and God—forsakenness. From His lips was wrung that awful cry, "My God, My God, why have You forsaken Me?" The black shadows of eternal night without hope of morning tore His great heart and slew Him.

But that is not all. He took unto Himself our alienation that He might reconcile the world unto God. And He did just that (Romans 5:10). All the relationships of human existence were represented at the cross. His feet were pointed to the earth, His arms outstretched to embrace the human family, His holy head bowed to accept the verdict from heaven. By dying He brought God and man and earth together.

. . . and through Him to reconcile to Himself all things, whether things on earth or things in heaven, by making peace through His blood, shed on the cross. Once you were alienated from God and were enemies in your minds because of your evil behavior. But now He has reconciled you by Christ's physical body through death to present you holy in His sight, without blemish and free from accusation. — Colossians 1:20-22.
And that is not all. His righteousness was so mighty that it swallowed up the world's sin, His life so eternally great that it swallowed up death. On the third day He rose from the dead, was seen by many witnesses and then ascended in human flesh into the presence of God as the accepted man. Thus was the race restored to favor with God in the person of its Representative. And in Him who embraces all men, man is whole, holy, healthy In all this, God has neither been lenient with sin nor short on mercy. If we will believe it, the death of God's Son was our death. "One died for all, and therefore all died" (2 Corinthians 5:14). If we will believe it, His resurrection was our acceptance into divine favor. If we will believe it, God freely forgave us at Calvary at His own expense. Like the true Father that He is, He spared His children but not Himself.

If one should ask how the righteousness of One and the dying of One can be considered the righteousness of many and the death of many, we can simply answer that the gospel says so. But we can also say that since sin and death came into this world by one man, then it is proper for God to remove it by one man (Romans 5:12, 18, 19; 1 Corinthians 15:21). We are afflicted by that individualism of the Western mind which makes us think that each man lives as an island. This is not so. All human life is mysteriously connected. Every day we live by what others do for us. Our parents, our children and our state officials represent us in many things. Life is continually supported by what others do. We prosper or suffer by what others do. And our own influence reaches out to affect many others.

No man is an island, entire of itself; every man is a piece of the continent, a part of the main.... Any man's death diminishes me, because I am involved in mankind; and therefore never send to know for whom the bell tolls; it tolls for thee.2

This illustrates how the doing and dying of that One who was righteous can be the doing and dying of the many who are sinners. As one believer has well said, "Mine are Christ's living, doing, and speaking, His suffering and dying, mine as much as if I had lived, done, spoken, suffered, and died as He did."
We Are Now Called to Judgment

Now that God has acted in Christ for the judgment of the whole world, He must bring us to personally participate in it, either to accept what He has done or to refuse it. By the proclamation of this one everlasting gospel God arraigns the inhabitants of the world to judgment. And by their response to what He has graciously done in Christ, each man is judged. And more, each man passes judgment on himself. The final judgment day at the end of the world will only confirm and manifest what the verdict has been — His verdict and ours.

The gospel divides the race into two: those who believe and those who believe not. Those who believe not are judged and condemned (Mark 16:16).
Anyone who does not believe God has made Him out to be a liar. — 1 John 5:10.

Whoever does not believe stands condemned already because he has not believed in the name of God's one and only Son. —John 3:18.

Whoever puts his faith in the Son has eternal life, but whoever rejects the Son will not see that life, for God's wrath remains on him. —John 3:36.
On the other hand, those who believe are forgiven. By the verdict of the divine court they are pronounced justified.

For all... are justified freely by His grace through the redemption that came by Christ Jesus. God presented Him as a sacrifice of atonement, through faith in His blood.... For we maintain that a man is justified by faith apart from observing the law. —Romans 3:23-25, 28.

I tell you the truth, whoever hears My word and believes Him who sent Me has eternal life and will not be condemned; he has crossed over from death to life. —John 5:24.

For God so loved the world that He gave His one and only Son, that whoever believes in Him shall not perish but have everlasting life. — John 3:16.
Two men hear the gospel and are thereby brought to judgment. One is a man of many splendid virtues. He has lived well before men and is honored in the community He does not do bad as men count badness. In fact, his life is devoted to good as men count goodness. But he does not believe the gospel. He is condemned. The verdict is just because at the deepest level of existence he is an alienated sinner and proves it by making God out to be a liar. The splendid appearance of being a good fellow cannot hide the wretch he is. His own conscience agrees with the verdict of God.

This is the verdict: Light has come into the world, but men loved darkness instead of light because their deeds were evil. —John 3:19.
Now the other man stands in judgment. He has been arrested in his mad, evil course, caught red-handed and brought before the court. The charges are read. He is silent. It is the silence of guilt. The sentence is passed upon his sins, a judgment as weighty as God's intense hatred of evil and his intense hatred of God. But then he sees that God has outwitted his bitter alienation and done the amazing, undreamed-of thing. The Judge has borne the sentence Himself. In surprise the man exclaims, "He loved me and gave Himself for me!" He believes the gospel, and God gives His verdict:

"No charge! In the eyes of this court this man is all that a man should be. The doing and dying of My Son are all counted as his, and for this reason I see him as a whole, holy, healthy man. I therefore declare him righteous."

To the man who does not work but trusts God who justifies the wicked, his faith is credited as righteousness.—Romans 4:5.
God's verdict is just, and to this the believing sinner's conscience agrees (Hebrews 9:14). Before, his conscience condemned him. He was alienated from himself and filled with self-contempt and self-shame. He had no rest because he could not forgive and accept himself. Nor could he silence his own judgment against himself. But a court higher than his conscience sits and, because of Christ's blood, grants him pardon. "What! Does the Almighty accept me?" he asks in surprise. "Does He see me in the light of the glistening purity of His Son? Yes indeed. I believe it. No more do I stand accused by my conscience. It must bow before the highest court" (1 John 3:19, 20).

Human life and experience are full of instances where a man or woman, boy or girl is profoundly affected by the love and high esteem of another. What of the person who stands in faith before God fully known and fully forgiven? He can see himself in an altogether new light. There is no need for masquerades, masks, the weary round of self-justification. Away with "identity crisis," "self-actualization" and all other attempts to define self-value! God Himself has defined man's value —the value of Christ Himself. The value is not in the believer but in the One to whom he is related. He is liberated.

Long my imprisoned spirit lay
Fast bound in sin and nature's night;
Thine eye diffused a quickening ray;
I woke, the dungeon flamed with light,
My chains fell off, my heart was free;
I rose, went forth, and followed Thee.3
The effect of God's justifying verdict is more than a psychological, moral influence. The moment He declares the believing sinner righteous, He treats him as righteous. He sends His Spirit into the believer's heart to witness that he is a son of God (Romans 8:16). He is not only forgiven, but renewed and born again. He can see both the nature and place of the kingly treasure (John 3:3). It is perfect righteousness, total health, abundant life, and it is found in Christ alone.

And this is the testimony: God has given us eternal life, and this life is in His Son. He who has the Son has life; he who does not have the Son of God does not have life.—1 John 5:11,12.
—————————————————
Footnotes:
1 See 1 Corinthians 15:45; Romans 5:12-21. Christ is designated as the second or "last Adam." Adam means mankind.
2 J. Donne, Devotions, 17, quoted in John Bartlett, Familiar Quotations, 13th ed. (Boston: Little, Brown & Co., 1955), p.218.
3 Charles Wesley, "Amazing Love."